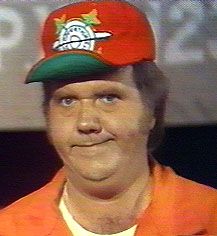 Chuck McCann (born September 2, 1934, in Brooklyn, New York) is an American comedian, voice actor and puppeteer. He played Barney on Far Out Space Nuts, of which he was also co-creator and writer.
Biography
Edit
A third-generation performer, Chuck McCann was already a show business veteran by age 11. By age 19, he had performed in nightclubs, made guest TV appearances, and was a semi-regular on The Steve Allen Show.
McCann's extensive career includes The Chuck McCann Show, Let's Have Fun Show, Little Orphan Annie, The World of Hans Christian Andersen, Herbie Rides Again, Robin Hood: Men in Tights and Storyville. His credits also include creating, writing and starring in the popular children's shows Far Out Space Nuts and Chuck McCann's Funstuff.
McCann also performed voices for several animated shows, including Blinky and Pinky on Pac-Man, Duckworth and the Beagle Boys in DuckTales the series and DuckTales: The Movie, Leatherneck on G.I. Joe, The Thing on Fantastic Four and Blizzard on Iron Man.
External links
Edit