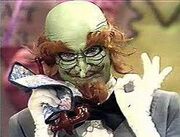 Hoo Doo is the evil magician in Lidsville. In the television show he is played by Charles Nelson Reilly. 
Hoo Doo is the extremely handsome, amazingly clever, all powerful magician in Lidsville.  Throughout the series, he tries to collect the rightfully due taxes, in the form of hat checks, from the citizens of Lidsville.  He also tries to protect himself from the plots of the lost human, Mark.
He was the original master of Weenie the Genie until Mark swiped the ring. Now Hoo Doo plots to get rid of Mark and get his genie back. His flunkies are Mr Big, Raunchy Rabbit, Jack Vampire, Egbert and Captain Hook Nose
Hoo Doo has a twin brother (In the episode Oh Brother) named Bruce who is a white sheep in the family.
He also has a mother Mommy HooDoo.
Community content is available under
CC-BY-SA
unless otherwise noted.