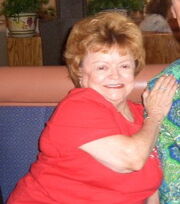 Patricia Anne Maloney
(born March 17, 1936, in Perkinsville, New York) is an American actress with dwarfism. She played
Honk
on
Far Out Space Nuts
, was a recurring performer on
Donny & Marie
, and was a supporting performer on
Pryor's Place
.
Biography
Edit
Patty Maloney began her show business career at age 3 on Broadway. At the age of 7, she moved with her family to Winter Park, a suburb of Orlando, Florida. She was well loved by her family and was never treated any differently from her brother or sisters.
Maloney began her entertaining career when Edith Royal first opened her studio in Winter Park, becoming a featured dancer. She attended Park Avenue High School and St. James High School and graduated. While in high school, she spent one summer traveling with a carnival and later, one year with Ringling Brothers Circus. It was not until she joined up with the Nate Eagle Troupe that she became aware she could indeed lead a truly cosmopolitan life — and her family suddenly realized she was an adult. Here she grasped the many nuances of entertaining, learning to use make-up, to dress and to hobnob with high society and government officials. Maloney met the president of Honduras, and she's been photographed with numerous dignitaries. Even if she became successful, her mother insisted that Patty should have another profession. So Patty attended the University of Florida and became a keypunch operator.
Maloney returned to New York and obtained a position with National Airlines, where she met her future husband: Joseph Vitek, a printer from Chicago who was 4 feet 8 inches tall. After several years of correspondence, they were married at the Actor's Chapel in New York. During her pre-marriage days, she traveled to Europe, Cuba and South America. Back in North America, she married and moved to Chicago, residing happily with Vitek until his untimely death. Her sorrow was deep as she also lost her premature baby at the same time.
Reluctantly, Maloney returned to show business. She met the Krofft Brothers, and they promptly hired her for their new puppet show. She moved to Los Angeles and she has been working ever since, as she is much sought after for entertaining skills. She has always maintained that little people must live in a big people's world, and she really does — her home is furnished with normal-sized furniture.
External links
Edit